Web Development - Digital Marketing - On Onedailynews.net
OneDailyNews.net Development & Marketing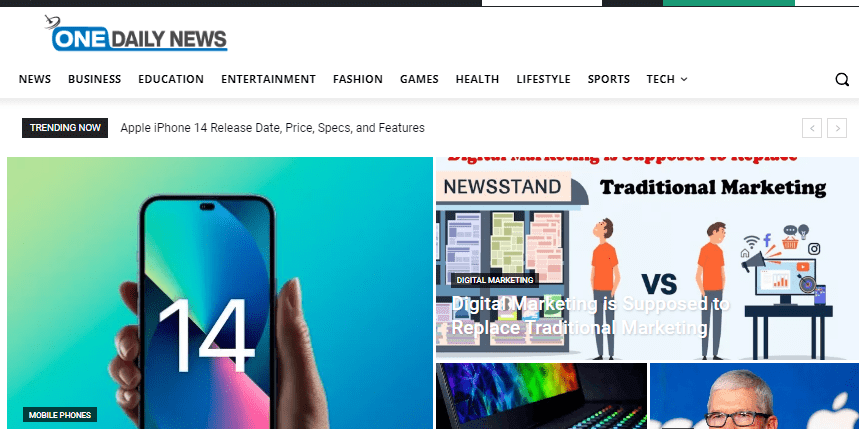 Client reach out us with an idea to develop a News blog website in WordPress to start his adsens business online. We welcome the idea and discuss with client with detail what type of website he want to create and he has any design in mind or not.
Client respond us that he has sample designs and templates we have to develop similar to this, He wants the similar design with his provided PSD file, We accept the design and call a meting for this project and handover the tasks to its relevant person like designer, developer and optimizer. We also offer him a first month free SEO and digital marketing services for free and he avail the offer happily. We required some information from him.
Access of the website CMS Panel

Design Idea

Design Templets

CMS Requirement
Hosting Type

Developing Language Preference

Budget for Development

MySQL Database Requirement
Task Time Frame

Necessary Plugins

Data Scraping

Client Trust and Patience
Project Name
Web Development – Digital Marketing – SEO
Our Role
SEO Optimization & Link Building
After accepting this project, We start collection all relevant information and material that will help us to develop this website easily and with accuracy. We call meeting and give tasks to its relevant experts to collect metrical and handover to developer to start project as soon as possible as he get all required information. Some information we get from client like, design, niche, theme or templet, other developing material are our experts responsibility , after collecting all data we verity it and handover it to developer.
 After analyzing all data that we have collected, Developer start its finger magic on website, and create a beautiful and stunning website. Before finishing our task we send it to client many times and client require more changes every time and we honor to follow it because we believe in client satisfaction not only earning bucks. issue that we are facing while development is number of traffic count that website can get and handle it easily after first launch website getting double traffic as expected and got too slow, client ask to revise it and solve this issue we revise it and fix the issue and make the website more lighter and with more bandwidth that can handle tons of users easily.
Finally We Finish the Job
After revising the website and fixing the issue we send it to our client to get final remark and finish it, Client was very happy to see new version of website and give us positive feedback with future work assurance. We offered him first month marketing and he avail it and start getting traffic in first month and give us bonus, This was our story with this development project you want to start your please contact us now.
We are the best in this field and has 12 years of experience and completed many projects successfully, above project is only one of them we can't display all of the projects for the client's privacy concerns, 
We are providing the best white label SEO, Local SEO and Link building services to increase your website ranking in local search and global search results, Choose us with no doubt and start your free analysis now and get real-time analysis of your website for free and hire us to fix those issues and improve your rankings to get more sales, traffic and leads.